10/10/2017 BoulderLatvia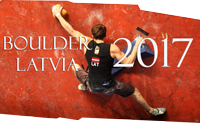 Latvian Bouldering Cup second round for youth and adults took place on 7th and 8th October "Falkors", Ropažu str 140, Riga.

Winners

Laura Skrūskopa LVA Daugmale, Pēteris Meirāns LVA Daugmale
Santa Vilka LVA Daugmale, Joris Leipus LTU Montis Magia
Katrīna Cirvele LVA FBC DINGO, Artūrs Dombrovskis LVA Virsotne MARMOT

All round results can find here: adults and youth. More information about competition, regulation. look here.