14/05/2018 IFSC Climbing Worldcup (B,S) Tai'an (CHN)

Winners
NOGUCHI Akiyo JPN, KHAZANOV Alex ISR
NONAKA Miho JPN, KRUDER Jernej SLO
GIBERT Fanny FRA, VEZONIK Gregor SLO
GEJO Stasa SRB, SUGIMOTO Rei JPN
FÄRBER Johanna AUT,FUJII Kokoro JPN
CONDIE Kyra USA, CHON Jongwon KOR
Qualiafication
39 RUGENS Rolands LAT 3T 5z 4 10
86 YAMCHUK Danila LAT 0T 0z 0 0
All competition results find here
LIVE
07/05/2018 IFSC Climbing Worldcup (B,S) Chongqing(CHN)

5 - 6 May 2018.
Winners

NOGUCHI Akiyo JPN, FUJII Kokoro JPN
NONAKA Miho JPN, MCCOLL Sean CAN
GEJO Stasa SRB, RUBTSOV Aleksei RUS
KIPRIIANOVA Ekaterina RUS, SCHUBERT Jakob AUT
PILZ Jessica AUT, HOJER Jan GER
KADIC Katja SLO, KRUDER Jernej SLO

All competition round results find here.

Qualification

61 RUGENS Rolands LAT 0T 4z 0 8
77 YAMCHUK Danila LAT 0T 0z 0 0

All qualification results: Qualification A

LIVE
30/04/2017 European Youth Cup (B) Graz(AUT)

28 - 29 April 2018

12 EDVARDS Gruzītis LAT 7T 7z 8 8
39 DOBRŽINSKA Ksenija LAT 0T 4z 0 5

All competition results find here
23/04/2018 IFSC Climbing Worldcup (B,S) Moscow(RUS)

Winners

GARNBRET Janja SLO, NARASAKI Tomoa JPN
NONAKA Miho JPN, KRUDER Jernej SLO
NOGUCHI Akiyo JPN, VEZONIK Gregor SLO
KLINGLER Petra SUI , CHON Jongwon KOR
GIBERT Fanny FRA, RUBTSOV Aleksei RUS
COXSEY Shauna GBR, MORONI Gabriele ITA
21/04/2018 IFSC Climbing Worldcup (B,S) Moscow(RUS)

Qualification

87 DIANA Lotina LAT 0T1z 0 2
93 KATRĪNA Cirvele LAT 0T0z 0 0
98 ZVIGULE Alise LAT 0T1z 0 2

25 RUGENS Rolands LAT 3T5z 4 8
67 KRASANOVS Jurijs LAT 1T3z 1 19
89 PĒTERIS Meirāns LAT 1T2z 2 10
15/04/2018 IFSC Climbing Worldcup (B) Meiringen(SUI)

Winners
NONAKA Miho JPN 4T4z 5 5, KRUDER Jernej SLO 3T4z 7 8
GARNBRET Janja SLO 4T4z 7 5,NARASAKI Tomoa JPN 2T4z 3 7
NOGUCHI Akiyo JPN 4T4z 9 9, RUBTSOV Aleksei RUS 2T4z 5 13
LETTNER Sandra AUT 3T4z 5 5, SCHUBERT Jakob AUT 2T3z69
GIBERT Fanny FRA 3T3z 4 3, TAKATA Tomoaki JPN 1T3z35
COXSEY Shauna GBR 2T4z5 1 1, CHON Jongwon KOR 1T2z 1 2
CORNU Manuel FRA 0T3z 0 9
14/04/2018 IFSC Climbing Worldcup (B) Meiringen(SUI)

The final was close, a little missing today.
Semifinal
11. Rolands Ruģēns LAT 2T2z 5 5
14/04/2018 IFSC Climbing Worldcup (B) - Meiringen (SUI)

Rolands Rugens will play a good start at the World Cup 2018, divided by the first fourth place in the qualification round. Peteris Meirans has reached one zone and a ranked outside the hundred.
Qualification
Rolands Ruģēns LAT 5T5z 6 6
Pēteris Meirāns LAT 0T1z 0 1
The girls were left without a countable score.
Katrīna Cirvele LAT 0T0z 0 0
Alise Zvigule LAT 0T0z 0 0
All qualification rond results find here. Watch the semi and final.
26/03/2018 Rīga Open 2018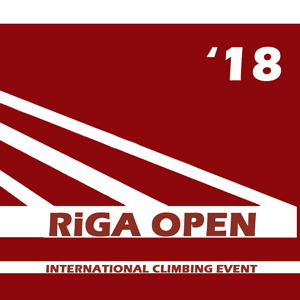 From 24th to 25th of March Latvian open bouldering championship took place in Riga. 132 participants entered event from Lithuania, Estonia and Latvia. Thanks to all participants, judges, builders and route setters from Lithuania Arturas Volkovas, Ignas Kisielius, Joris Leipus for making this happen again. In this year's best climbers are ... Winners by groups

A

Laura SKRŪSKOPA, Jurijs KRASANOVS
Diāna LOTIŅA, Kaspars VILKS
Alise ŽVĪGULE, Semion KOZLIUK (LTU)

BC

Elza BARAKA, Vakaris GRIGAS (LTU)
Alise DROZDOVA, Mārtiņš ARŽANOVSKIS
Madara KRŪMIŅA, Dāvids ZAKREVSKIS

DE

Amanda TŪCE, Dmitrijs SEVAŅKAJEVS
Jūlija POPOVA, Žygimantas BIČKAITIS (LTU)
Vera KOZLIUK (LTU), Voeslav SAVELEV (EST)

F

Aldona CEPLIEJUTE (LTU), Aleksandrs BEĻAJEVS
Kristina PUIDOKAITE (LTU), Andrejs DEREVJANKO
Olga DROZDOVA, Viesturs LUKA-INDĀNS

All competition results could find here
10/03/2018 Rīga Open 2018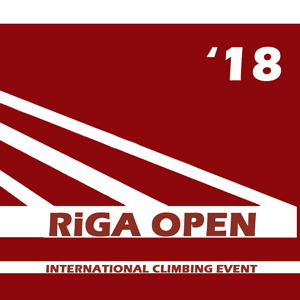 We have already almost 100 registered competitors for Riga Open 2018 and we expect that most people will register next week. Advanced registration deadline is 16th of March. We just want to remind that registration is not only filing form on internet but also transferring registration fee to our account. In case you need invoice please contact us. Climbers from outside EURO zone can pay participation fee at the competition venue. For more info visit our web site.
09/03/2018 Lietuvos Boulderingo Čempionatas 2018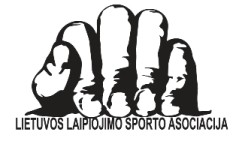 Lithuania bouldering championship, qualification round. Can be seen as doing well for all climbers.
31/01/2018 Rīga Open 2018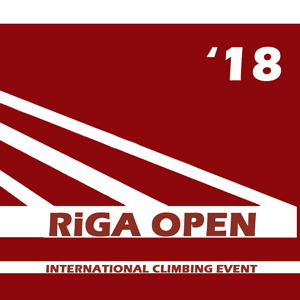 We are glad to invite you to the Latvian bouldering championship for one of the biggest climbing event in Baltic states called RiGA OPEN 2018, that this year will take place on 24th and 25th of March at exhibition hall Ķīpsala in Riga during trade show "Leasure and sport 2018". This year competitions will be held in four groups. Amateur group also saved and it is a great news many of potential participants. Additional information you can read on the official event site.
28/11/2017 Reel Rock 12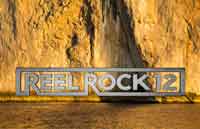 Get ready for climbing's greatest stories, stars, and sends. REEL ROCK 12 premieres five new short films that will deliver heart-thumping action, big laughs, and pure inspiration. Featuring Margo Hayes, the first woman to climb 5.15; Brad Gobright, an up-and-coming free soloist with a donut addiction; the return of Chris Sharma to the deep water soloing stage, and more.
10/10/2017 BoulderLatvia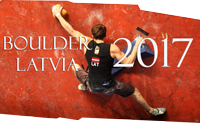 Latvian Bouldering Cup second round for youth and adults took place on 7th and 8th October "Falkors", Ropažu str 140, Riga.

Winners

Laura Skrūskopa LVA Daugmale, Pēteris Meirāns LVA Daugmale
Santa Vilka LVA Daugmale, Joris Leipus LTU Montis Magia
Katrīna Cirvele LVA FBC DINGO, Artūrs Dombrovskis LVA Virsotne MARMOT

All round results can find here: adults and youth. More information about competition, regulation. look here.
03/09/2017 IFSC Youth World Championships Innsbruck

IFSC Youth World Championships Innsbruck 30 August - 10 September 2017. Bouldering - Male & Female Juniors Semi-Finals and Finals.
01/09/2017 Falkors Utopija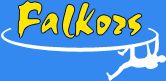 So Falkors Bouldering centre will made a 24-hour climb which has never been before in the Baltic States Festival start is on October 27th at 16:00 and end on October 28th at 16:00 More info here
23/08/2017 Ventspils Open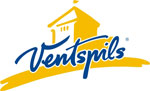 Save the date - 26th of August. Climbing club of Ventspils "Atsaite" invite all climbers to lead event will be held in Ventspils. Besides having the best climbing wall in Latvia, Venstpils is also a beautiful city with beach and lots of atractions. So start training and snd see you there. Registration by e-mail: atsaite@inbox.lv, specify name, surname, club and group. Event regulation here(lv only)